Posted: October 16th, 2014 | Author: Michael Goldstein | | 1 Comment »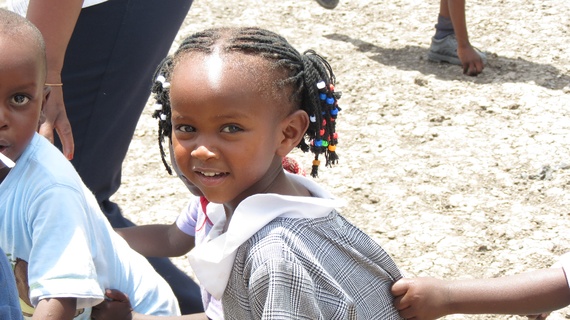 Hi folks,
Been busy!
Recent article in The Atlantic about Bridge.
Previous attempts to solve this problem have been expensive, and ineffective. According to the same report: "The government spends more than any of its neighbors. There's a disconnect between Kenya's spending on education and learning outcomes. More of the same is not enough."

With public schools in such struggling condition, the country has seen a rise in private schooling over the past decade. Enrollment has grown from 4 percent in 2005 to 12 percent currently. GEMS Cambridge International School, a private schooling company that currently operates in 14 countries worldwide, charges almost $6,500 a year for kindergarten, and that figure grows exponentially as a child moves from grade to grade. In a country where half the population lives on less than a dollar a day, even less-expensive private schools are rarely an option.

This is where Bridge has found its niche: somewhere between the exorbitantly expensive private schools and the absentee-ridden public ones.

With a tuition of $6 a month, has positioned itself as an affordable alternative, offering the quality of a private school without the cost.

Mukhtar Abdi Olge, a national coordinator at the Kenyan National Examinations Council, laments "pathetic" teacher commitment in public schools and praises Bridge's efforts: "They are not only fixing all the aforementioned challenges but also, in each day of their success, shame the government officials and teachers in public schools."
Read the whole thing here.
There's a critique, too.
So far, it's been working: Bridge's students score an average of 35 percent higher on core reading skills and 19 percent higher in math than their peers in neighboring schools. But not everyone is on board. Kate Redman, a communications and advocacy specialist for UNESCO's Education For All initiative, isn't convinced by Bridge's long-term prospects.
"A large-scale adoption of this method of teaching would signal a very narrow model of education—one where education is most certainly not created through classroom interactions," she said. "Such an education is unlikely to spur the imaginations of the students or encourage critical thinking or social mobility. It is more likely to lead to rote-learning, and would likely leave little flexibility. There is no evidence it can serve as a permanent approach."

Redman also criticizes Bridge and other private schools for "imposing external cultural values" on the country. Kenya's current education system dates back to 1984, when the Commonwealth nation emancipated itself from the British curriculum. There have been problems ever since, but Redman insists that Kenya needs to find its own footing.

"The school curriculum is more than the inculcation of basic skills. It is also a reflection of culture and cultural diversity," she said. "Only by creating a national curriculum, incorporating cultural understandings, can authorities address particular local and national challenges."
Reasonable concerns to cite. But I think Bridge can address all three.
1. If "regular teaching" is typically rote — heavy teacher lecture, less work by the kids — then a script is actually the most likely way to change that. I.e., you can write in the script "Stop lecturing. Say to kids….'Now you will work together at your desks for the next 15 minutes. I will circulate to help.'"
That's what we do. It's also what PRIMR, from non-profit RTI, is doing, with great success.
2. In terms of national curriculum…there is one in Kenya, and Bridge follows it, as do all the other low-cost private schools serving the poor. That's by law, and implicitly by parents, who definitely want Bridge to follow what they call the "8-4-4."
3. The "external values" question…I'm not sure which values she means exactly. It's true that Bridge forbids corporal punishment by teachers. And that many Kenyan parents and teachers prefer to do what they call "beating the children," even though nominally it is not allowed.
But that's the only Bridge value I can think of which is arguably in conflict with cultural preference. And if Bridge didn't follow the prevailing culture on most matters, parents wouldn't choose Bridge.
---